INTERNACIONALIZATION
Ver en Lengua de Signos Española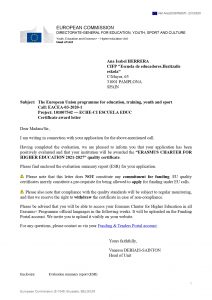 Certificate Award Letter
THE HISTORY OF OUR CENTER IN RELATION TO THE INTERNATIONALIZATION
Our center, since its inception in 1986, has had frequent contacts with European institutions that have significantly influenced the educational project of the center.
In the early years of our career, we held meetings and exchanges of students and teachers with French centers from Pau, Etcharry and Britain, in order to know the professional reality and the training of peer professional profiles in a country with more experience of figures of socio-educational field. On the other hand, it has had an important influence on the educational project, the supervision model in training and in the profession of educators and other figures in the social sphere, in Europe, specifically in Aachen, Germany. Several teachers from our school, have been formed in Navarra with teachers from the "Institut für Beratung und Supervision" Aachen.
Later, with the addition of grade of 'Technician in Early Childhood Education', they have favored contacts with European experiences that are global benchmarks in this area: we make an exchange with a training center of the Italian city of Reggio Emilia, performing pushed internship with the "Leonardo da Vinci" in that city, and an important part of teachers in early childhood education program has received direct training of Loczy Institute in Hungary or in courses held in Budapest or attending courses in Spain, by staff of the institute.
Since the 2001-2002 course, our center has participated in the Leonardo da Vinci program. Each year 10 to 20 students have been able to make this traineeships in countries like Britain (England, Scotland), and especially in Italy (Florence, Padua, Reggio Emilia, Germany …).
CURRENT SITUATION
The last course, given the changes made at European level in the management of these experiences, we request the Erasmus Charter, letter that is given to us, during this course, and is valid until 2020. For this period, we have developed a plan in which describes the objectives to be achieved in this period.
We participate in a consortium with the Department of Education, Government of Navarra, for managing mobility experiences. . Also, we have presented as a center, a project called "Ciriza" in order to favor the high number of students who want to spend a period of practical training after European countries can.
Our institution is currently involved in a cooperation program Comenius Reggio with Turkey, "Gaiqvet Project" ending this course.
Likewise wing are waiting for a cooperation project for innovation and exchange of good practice with Germany and other countries, whose title is approved ". Study and work orientation_Methods and Measures for European schools"
We have also participated this course, in a cross-border project, Piremov program, which has allowed a group of around 20 students / ace and two teachers, the French city of Toulouse, to know companies in the socio-educational field.
We have also welcomed a group of students and from the "Centre de Formation et Promotion of Champcevinel (France) teachers.
SCHOOL'S INTERNALIZATION PLAN
The C.I.F.P. 'Educators Schools / Hezitzaile Eskola' features an recently created internationalization plan witch is immersed in a constant process of updating and improvement. The main features of the plan are explained in the following document:
ACADEMIC AND ADMINISTRATIVE STRUCTURE RELATED TO THE SCHOOL INTERNATIONALIZATION
We have, within our academic structure, a number of persons particularly involved in the revitalization and internationalization of the school:
* The management team: fosters the inclusion in international projects.
* Teachers departments:  analyze the academic impact on the academic performance of each cycle and module.
* Pedagogical coordination commission: evaluates projects, keeps track of them and makes proposals to the faculty.
* The person responsible for the internationalization of the center: coordinates with other members of the academic structure and establishes mechanisms for communication between them. Also informs the students and monitors projects in which our students are immersed.
* The person responsible for external and professional activities: coordinates business and vocational training schools for foreign students.
The administrative structure of the center is also involved in the revitalization of the school internationalization.
* The administrative staff and the secretary: support in the processing of documents and also in the financial management them.
TAKING PART AS A PARTNER SENDING AND RECEIVING STUDENTS
Our institution prepares a working plan which we present to our international partners. As a shipping partner, we send information on studies done by the student and described in the Europass Diploma Supplement. According to the  professional profile of the students, we developed a working program where is recorded the training program, signed by the student, the school director, the head of the host institution and the representative of the consortium, and the training agreement. This agreement will also be done when foreign students are received. It is agreed by both sides how it is going to by certificated and asses  the mobility evaluation for both students we send and students we received (Europass mobility, company certificate and tracking records). There will be a person responsible for monitoring the practices of each student.
Our school establishes a reference tutor for the foreign student. His/Her task is to: provide accommodation, report about the characteristics of the city: transportation, health care, entertainments and sport, … and other peculiarities. We have several student residences and a network of accommodation in our immediate environment.
For people from our school traveling outside, we will provide help in the decision making process, they will be provided with help finding accommodation (we require the host partner looking for accommodation to our students), as well as other particularities in the host country.
Every student of our institution or that we welcome, has a liability insurance and accident insurance.
 IMPROVING LANGUAGE SKILLS OF OUR STUDENTS
Linguistic preparation of our students takes place before and during the stay and it is done on-line. This training, as new Erasmus + program claims is mandatory. In our school, our students have a mandatory module in "English". Before arriving to the school, all students have studied English, since it is in their studies curricula. Those who have studied high school have already a B1 level. In the entrance examination they also have a language test.
We reflect on language policy and some students can access internships in schools where there is contact with the English language. We help them to contact with external learning schools.
We organize groups for students and teachers we receive, so they can make a language immersion in our school. There are some modules witch for their characteristics (more practical and dynamic approach or more directly related to communication) are a preferred option to offer linguistic immersion.
PARTICIPATION STRATEGY IN MOBILTY AND INTERNATIONAL COOPERATION
Our internationalization plan strategy includes:
1. a) We contacted our partners from projects in which we have already participated; through e-twinning platform; and finally through the Department of Education, as the department and public vocational training centers form a consortium. Our institution chooses its partners according to similar affinities.
2. b) We have a predetermined geographical area, formed by the United Kingdom, Ireland and Italy, but we are open to incorporate other areas in the future.
3. c) The most important objectives are related to complete the training at our school, with an European perspective and by immersion in companies. We try to contrast methodologies regarding to work procedures, and building projects to create innovative companies and get job placement in our country or in another European country. In the case of teachers, mobility will affect the center, through working sessions with the rest of the teaching staff onces they have returned to our school. It also generates awareness of new partners. Teachers, like students, are supported by the school in their mobility projects, which ensures that these projects have an impact on the educational quality of our institution.
We develop cooperation projects jointly with several partners. Based on the acceptance of a previously developed project. Once the project is valued by the pedagogical coordination commission, we propose it for teacher cloister approval. Then we value the teachers who can engage and proceed to make the distribution of tasks. In this distribution we value specially the establishment of communication procedures, internal and external, and also local, regional, national and at international level.
We also host our partners events.
RECOGNITION OF MOBILITY
Our institution certifies mobility at three different levels:
– Europass mobility at European level.
– Certificate of the company with details of the training: explains the competencies and acquired skills.
–  Education Department Diploma, public regional level.
Like the students, our institution recognizes teachers too at three different levels:
– Europass mobility at European level. This document is issued by the host. It is performed between the sending and host institutions. It is validated by the Education Department and it is registered by the European agency.
– Certificate of the company with details of the training: explains the competencies and acquired skills.
– Education Department Diploma, public regional level. Participants teachers assigned 3 credits for each week of stay (one week is equivalent to 30 hours). It is issued by the Europass.
 PARTICIPATION IN INTERNATION COOPERATION PROJECTS
Our institution is currently involved in a cooperation program (Comenius Reggio) . The faculty validates to take part in the project. The roles to be performed within the project are distributed among the group of people particularly interested in participating . Students are also involved: in some modules they collaborate in organizing the reception of our partners. There is a person in charge of the  communication in English. The website makes reference to the project and we  also spread the project in the regional media. These are the mechanisms used to support, promote and recognize the participation of both students and teachers, in the cooperation projects .
THE IMPACT OF PARTICIPATION IN ERASMUS + REFERRING TO THE 5 PRIORITIES FROM THE MODERNIZATION AGENCY 
The impact of the participation in the Erasmus + program, referring to each of the five priorities of the modernization agenda will be:1. The educational skill  of our students are strengthened through this European experience, which complements their previous learnings in the school. In the case of students belonging to disadvantaged groups, complementing their training is an element of compensation of both economic and social inequalities, as well as the preventive value of early school leaving.
Knowledge and access to the European labor market is a clear expansion of employment opportunities for our students. Also the development of the potential of ICT, is another resource that expands the jobs our students can apply. Finally, the access to the European marked is a plus for our student adding new job opportunities.
International mobility leads to our institution to a continuous self-analysis and reflection by reference to the European framework of learning. The recognition of studies abroad involves ensuring the quality of training offered in our institution.
Cooperation with other international institutions reverses in implementing plans for regional and local development at different levels.
Transparency, rationality and efficiency are the principles governing the management of the received funds.
——————————————————————————————————————
"Academia" program:
"Academia" is a guidance system and guidance practices in another European country.
The goals and themes of the training are to promote the best practice exchange between guidance practitioners and to enable networking between European guidance practitioners. Besides it is focus in prevention of drop-outs, pathways to higher education, transition from training into employment, guidance in higher education, validation of informal learning, e-counselling, etc.
Ver en Lengua de Signos Española
Grundtvig program
Grundtvig aims to provide adults with ways to improve their knowledge and skills, keeping them mentally fit and potentially more employable.
————————————————————————————————————–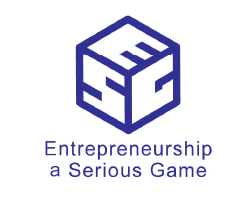 A NEW ERASMUS+ PROJECT:
ENTREPRENEURSHIP: A SERIUS GAME?
Entrepreneurship is a serious issue, but is it a game? A new ERASMUS + project funded by the European Union aims to demonstrate that it is.
For all companies that want to grow, innovate, access new markets and last, entrepreneurial skills they are vital for their employees, not just for future entrepreneurs. In addition to increasing the number of new businesses, entrepreneurial skills also lead to the success of Europe's largest companies.
What are these skills? And how you can develop?
The ESG project is aimed at companies from five European countries to answer these two questions. This research activity will result in what is known as competency framework that identifies and describes a set of skills and organized them by levels. This framework will help businesses, schools, and vocational training schools to develop learning programs and teaching materials for the growing demand of entrepreneurship skills.
A game? Right, it is a  entrepreneurship online game based on the key skills that  are identified and defined in the competency framework. It is fun to play, the "serious game" attract students and develop their competences and international skills.
This interactive game is developed and marketed in Austria, Czech Republic, Spain, the Netherlands and the United Kingdom. It will be available for free and will be designed so you can compete with players from different countries.
AN ON-LINE GAME THAT TAKES SERIOUSLY ENTREPRENEURSHIP FOR YOUNG PEOPLE SO THEY MIGHT DEVELOP JOB SKILLS THAT WILL BE NEEDED IN THE FUTURE.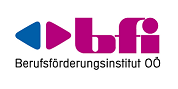 El presente proyecto ha sido financiado con el apoyo de la Comisión Europea. Esta publicación (comunicación) es responsabilidad exclusiva de su autor.La Comisión no es responsable del uso que pueda hacerse de la información aquí difundida
.